In 2010 we also launched Pre-Wow
™
, our prep for BlackWow
™
that helped clean and promote absorption into plastics and it also helps remove polish and wax residue.


The second product conceived by showcar detailer, Richard Lin, aka OctaneGuy and formulated by his father, a world renowned award winning scientist.
Finally, a product has been invented to permanently removing those stubborn wax and polish stains in your plastic for good without harming the good wax on your paint! For achieving maximum BlackWow
™
durability, pre-clean the surfaces with Pre-Wow, then restore with BlackWow
™
. Pre-Wow is the easiest, safest, and most effective method of permanently removing old wax and polish residue. PW cleans up easily with soap and water.

Pre-Wow
™
Retails for US$14.95 in a 6 fl oz. bottle.
Directions:
Dispense Pre-Wow
™
onto the material to clean or onto a firm small brush and gently scrub in circles for a few seconds to work PW into the pores. Best results come from wiping with a white painters towel after scrubbing, then wipe with a clean lint free towel. Before applying Black Wow, either allow PW to fully dry, or simply wash off with some dish soap and water then thoroughly dry.

Application Notes:

Pre-Wow

™

is great for removing BlackWow

™

off any surface including skin! Wash Pre-Wow

™

off with soap and water.

Before applying BlackWow

™

over a PW treated surface, ensure it is thoroughly dry, or simply wash off the PW with a bit of dishwashing soap and water!

Pre-Wow

™

is intended to remove stubborn wax and polish residue from the areas you don't want it. PW is activated by the scrubbing action.
CAUTION:
PW won't harm your paint or your skin but please keep it out of your eyes! To clean off your skin, just clean with soap and water.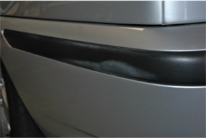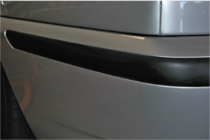 Pre-Wow™ Official Instructions
1. Dispense PW on to surface.
2. Wipe using a terry painters rag.
3. Remove PW using dish soap and rinse.
4. Inspect surface. Any areas that need further cleaning should be done. Repeat steps until uniform.
5. Apply BlackWow
™
sparingly.
Tips: PW will add a temporary darkening effect to the plastic which could be used as a temporary dressing. However it can inhibit uniform application of BW as well, so clean it first.