In 2007 I created BlackWow
™
now known as BlackWow
™
Classic in 4oz sizes that were intended for the enthusiast as a product that lasted a very long time, using very little product and looked great the whole time. I made it smell like my favorite candy, the watermelon Jolly Rancher
®
. The color red was chosen because at the time, there weren't any similar products that were this color, most people chose to make their silicone products blue or purple. I wanted mine to stand out, and people would recognize it by smell or color. The name BlackWow
™
was chosen after a naming contest was held in the MINI community but I wasn't happy with any of the 120+ submitted names, so I named it after the number one comment..."Wow Thats Black" and best of all, there were no plastic products with the initials BW.
BlackWow
™
Classic Retails for US$15.95 for 2 fl oz. and US$29.95 for 4 fl oz.
UPDATED 12/1/2010
Directions:
For best results, thoroughly clean trim before applying
BlackWow
™
, and perform the first application before washing your car, ideally the day before. Remember, a little goes a LONG way and the best results come from letting
BlackWow
™
penetrate the plastic. Size does matter!


FOR BEST RESULTS, LET BLACKWOW
™
ABSORB FULLY BEFORE GETTING WET (ATLEAST 1 DAY)

Apply a sesame seed sized amount to the applicator pad and massage it into your trim. You will see an immediate improvement in darkness and uniformity in tone. Continue to spread this out. More is NOT better with Black Wow
™
. Always work with sesame seed or pea sized amounts. The final look should be matte, not glossy and wet. There is no need to let BW dry or cure but it is important for BW to absorb. For the most durability, thoroughly clean the trim of all previous products using Pre-Wow, then leave BW to absorb instead of removing any excess. Lastly, wash the next day or later. If you immediately remove any excess with a lint free towel or proceed to wash the car, BW may not have the most durability.


CAUTION: In the early days of BlackWow
™
, we cautioned users from getting it on the paint because we knew that it would take some effort to clean it off. For some reason, people got the idea that BW was BAD for paint instead! For the record, Black Wow is safe for your paint, glass, plastic, rubber and pretty much all surfaces. To keep things clean, use our Trim Masking card, clean up with Pre-Wow, or use some glass cleaner or a clean and dry microfiber towel.
It took me 5 or 6 years to finish my original bottle of BlackWow Classic! I've used the same cloth to apply BW all these years ... I could probably go another year with just the residual in the cloth
T. Pratt- Hollister, CA
Black Wow™ Official Instructions
1. Remove all traces of previous products including wax/polish residue using Pre-Wow
™
. Fully remove PW using dish soap.
2. Work pea sized drops into material giving it time to fully absorb. Schedule this process before your next car wash.
TIPS: Some plastics need heavier coats
Smooth plastics take longer to absorb, apply in heavier coats and leave for several days.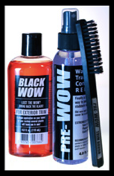 Notes from the inventor:

Creating a product that would restore old faded trim quickly and easily was one challenge. But it wasn't enough to just make a product that improved the look considerably. It had to make the process easier, thus the decision to include cleaners to remove old polish and wax was made. Looking at the competition, another challenge I faced was improving the durability! Manufacturers want you to keep buying product! So developing a super long lasting product isn't in their best interest. So whether it's a car wash, rain storm, or just time, most protectants on the market just don't last very long. As a professional paint polisher, I want my work to look its best for as long as possible! Finally, Black Wow is super concentrated. You only need enough to "quench" it's thirst.