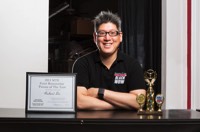 BlackWow
™
Pro is the newest product development targeted at professional detailers from the creators of BlackWow
™
and Pre-Wow
™
. My name is Richard Lin, and many of you know me from a variety of on and offline circles as the detailer that owns ShowCarDetailing.com, or the mad scientist behind a slew of products created for car enthusiasts and professional detailers. Some of you may even remember me from my ShowCarGarage days with Mike Phillips when we were making How-To DVD's and shaking up the industry. Regardless, I wanted to give you a little background on our newest trim product that was shown at SEMA 2013.

BlackWow Pro is beyond amazing me. Easily applying and protecting like nothing else. VERY Impressed.
Joe Gagliano- Detailer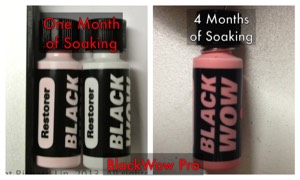 BlackWow
™
"original" now known as "BlackWow
™
Classic" was launched in 2007 to the MINI community. As a MINI owner, creating a long lasting product for trim was something very desirable as most products only lasted weeks and needed to be reapplied after every wash. With the help of my father, a well known cosmetic scientist, we created BlackWow
™
together. The name was chosen because on black trim, the number one comment was "Wow, that's black!"- despite the fact it works on any color plastic.


A product conceived by showcar detailer, Richard Lin, aka OctaneGuy and formulated by his father, a world renowned award winning scientist.

Hi Richard I can't thank you enough for the BlackWow Pro bottle you sold me. It's already paid for itself 5 times over. They say they've never seen anything like this stuff. My customers are happy so I'm happy and my wallet is happy lol that's man love Black Wow Pro
Henry Hernandez- Detailer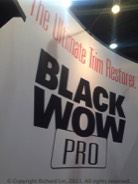 Designed for any color exterior plastic such as on the MINI
®
Cooper, Ford
®
Transit, Honda
®
Element, Jeep
®
Cherokee, Toyota
®
Tacoma, Volvo
®
, and others, this gel will restore your trims natural color without the use of dyes or colorants and provides a rich, long lasting look (measured in months), proven by the water beading action. Even brand new trim will see noticeable improvements on the first application.

BlackWow
™
Classic is available in two sizes 2 fl oz. and 4 fl oz. Pre-Wow 4 fl oz., and BlackWow
™
Pro in 16 fl oz. The BlackWow
™
system will yield results that far exceed any other plastic dressing both in terms of value for your money and durability.
Received my BlackWow™ Pro today! I did some testing with this stuff and I've gotta say it's hands down the best trim dressing out there. Great look, very durable, easy to use, and a little goes a very long way! Thanks for the great product Richard!
Corey Johnson

TIP! Are you applying BlackWow™ to faded plastic? There is a good chance it will be fully absorbed within 24 hours. If you're using Pro, you will notice this in minutes, Classic will take longer. This is entirely normal behavior because BlackWow products get their durability by absorbing. So if you apply the product, please don't give up because the next day it seemed to have "disappeared". Just apply some more and very quickly you will reach material saturation and it will stay looking great for months.


I love BlackWOW™ Pro!!!! This stuff is awesome! Looks great, and super user friendly! Highly recommend this Richard hit a home run on this. Cost per application is stupid cheap!
Joseph Torbati